September 19, 2019
Hear ye, hear ye! Gather round and listen, indies. It's time for another feature announcement. And, this one's a good one. Well, I mean, they're all good, but this one is a little something extra.
We're not doing audiobooks. Yet. I want to be clear about that up front so that you don't go getting excited about something we don't have and then completely miss how awesome this feature is. 'Cause it is awesome. Got it? Good.
MP3 File Delivery
Audio is huge in the book world, and it's growing by the day. So many of you either have audiobooks out there, or you have some in the making. We wanted to give indies a way to be creative with audio and engage with their fans, using the same simple tools and landing pages you love already ('cause you love us, right?!).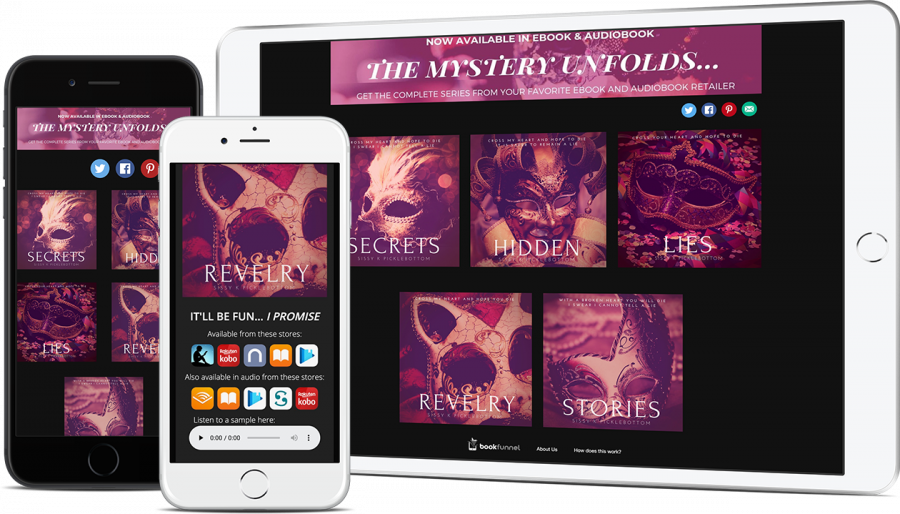 So, as of today, BookFunnel supports audio delivery to your readers (listeners?). Up to two hours of audio in a single file! Which may not sound like much, but that's almost 20k words to play with.
Make Readers Happy With Audio
"That sounds great, but what can I even do with that, huh?"
Well, I'll tell you, mythical, pugilistic indie author. Bold and brilliant authors (like yourself) have been requesting something like this for years and shared fantastic ideas with us like:
Send readers a real sample of your audiobook, not just eight minutes of credits. You decide what the sample should be. Make it long and really hook them into your story.
Narrate a bit of your own book as exclusive content and let your readers hear your words in your own voice. This is especially great for non-fiction and children's books.
Share audio short stories and novellas. With up to two hours of audio in a single file, you can deliver almost 20k words (25k if you talk really, really fast).
Hook readers into your series with an audio prequel and then send them along to buy the rest of the audiobook series in stores.
Boost newsletter engagement by sharing music composed for your series.
Create episodic audio content. Some savvy indies are putting out audio episodes of a story, and it's a great way to engage listeners.
Promote a sales page with a true sample of your audiobook. Let readers hear the sample you want them to hear. Leave them right at a critical point, and then they're just one click away from their favorite store to buy the rest!
As always, we know you guys will come up with even more. We tend to release new features like this, thinking they'll be perfect for X, and then watch in amazement as you guys knock it out of the park with Y and then Z. You indies are a wily bunch, and we can't wait to see what you do with audio.
Ready to get started?
Learn more about sharing audio with readers.
Audio has been blowing up, and it's only going to get bigger. If you haven't dipped your toes into the audio market yet, you should start looking into it. And while you're doing that, we're going to keep working over here, making sure you have the tools you need to do amazing things when you're ready.
Because that's what we do here at BookFunnel.
Happy listening, dear indies. Until next time.
---
Don't miss a post!
Follow the BookFunnel Blog and we'll notify you when we have a new post.