July 8, 2021
Hello, BFFs!
Summer is in full swing, and we've been busy little beavers over at BookFunnel headquarters. While most of our time has been dedicated to boring-old infrastructure updates and performance (LAME!), we've also built a few new features that you're going to love! Let's talk about new stuff!
Your BookFunnel dashboard now has a brand new calendar for tracking your promotions, and a way to control all of the email notifications you receive from BookFunnel. Let's take a quick dive into these.
The All New Calendar
When you join a group promo, we ask you to choose the date you're going to share with your readers. This would be the main date you're going to mail your list or post on Facebook, however you share. Your share date helps the organizer monitor author participation and promo success.
The new calendar on your dashboard (just click Calendar at the top!) tracks all of those lovely group promos in one place so that you can see what is coming up in your BookFunnel world. You can also add your own events to manage your other promos, no matter where they are.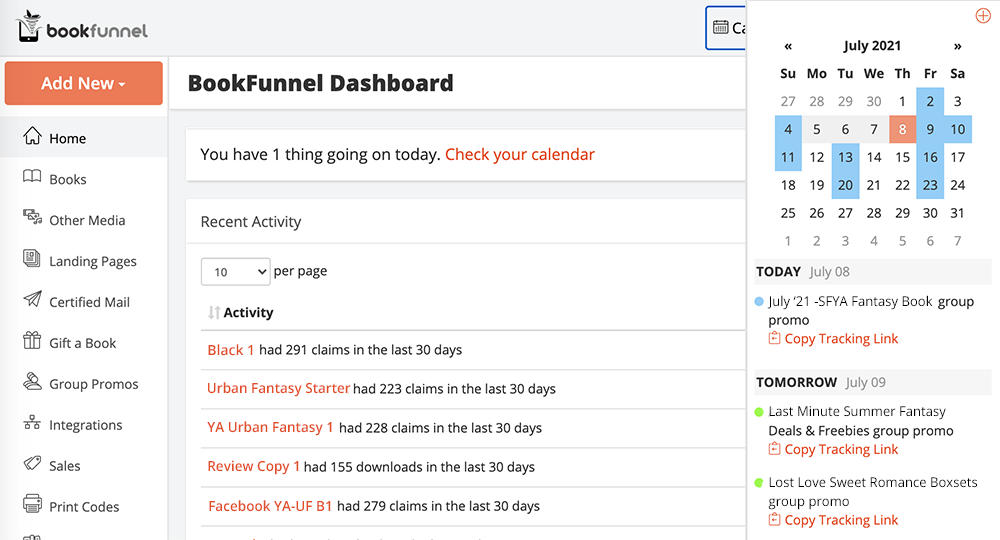 We have more features that will be included in the calendar in the future, so it's only going to get better from here. And, on top of that, we now have…
Calendar Notifications
BookFunnel will keep you updated on calendar events so that you can see what you have going on today, tomorrow, and in the coming week.
We'll email you up to once a day (based on your calendar settings) and let you know what's happening in your BookFunnel world. Tell us your timezone and what time you want to receive your calendar notifications, and we'll make sure they get there right when you want them!
Notification Settings
And, if calendar notifications weren't enough, we've also added new settings that give you control over every notification that BookFunnel sends! Don't want an email every time you join a promo? Turn it off! Don't want those new calendar notifications because you already have your own system? Turn 'em off! Do want a daily reminder when new emails are waiting to be exported? Turn 'em on! You get the idea.
You can now tell us exactly which emails you want and which you don't. It's all in your notification settings.
There are other new features sprinkled around the dashboard that we'll be sharing soon. More to come, BookFunnel Fans…
Don't miss a post!
Follow the BookFunnel Blog and we'll notify you when we have a new post.