July 18, 2022
Hello, BFFs!
How do you track your book sales across the various platforms? Are you still out there mashing the reload button on in every tab every few minutes? Well, have we got something you're going to love.
Have you heard of ScribeCount? Maybe you've seen their happy little sunbursts on Facebook?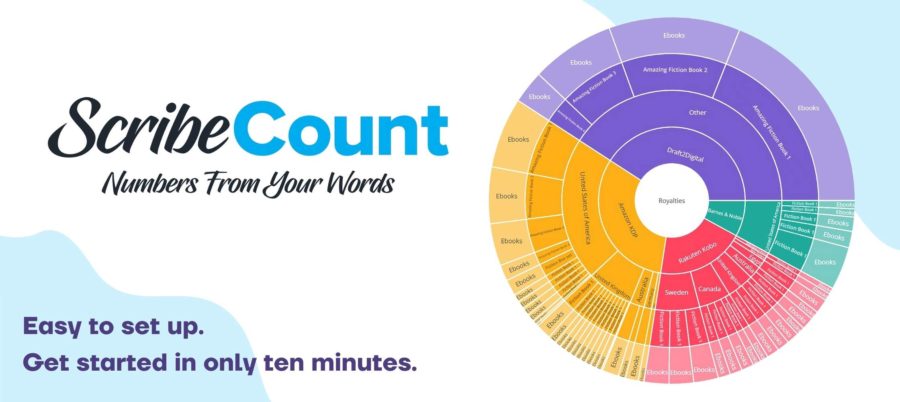 ScribeCount links up with all major retailers, tracks your sales, and combines it all into a single dashboard. You can slice and dice your sales data a thousand different ways and drill down to exactly the numbers you want to see. Plus, pretty, pretty graphs and charts! It's a data lover's dream.
But… they couldn't track your direct book sales. Sales from your website or your Shopify or Payhip store? ScribeCount couldn't pull that data in and include it alongside your other store sales.
That is, until today.
ScribeCount and BookFunnel, sitting in a tree
Now you can connect our two great services and include your direct sales data in those bright and beautiful sunbursts. No matter which platform you sell direct on (Gumroad, Payhip, PayPal, Shopify, Thrivecart, or WooCommerce), you can pass your sales data through BookFunnel and over to your ScribeCount dashboard.
Set up is as simple as copy-and-paste. Copy your Scribecount key from BookFunnel and paste it into ScribeCount. The data will start flowing! As new sales come into your BookFunnel dashboard, they'll be picked up and merged with all of your other sales over on ScribeCount.
Neat, huh?
Ebooks and audio and merch, oh my!
You aren't limited to only ebook sales data, nope. ANY sales you make through your store will be tracked with ScribeCount. Ebooks, audiobooks, paperbacks, whatever else you're selling. We record all of your transactions and push them through to your ScribeCount dashboard, even if BookFunnel isn't directly involved in the delivery. 😲
If you're doing merch like tote bags, t-shirts, or coffee mugs, all of that will show up in your sales data as well!
How to Send Sales Through BookFunnel to Scribecount
Connecting BookFunnel and Scribecount is super simple.
Add your sales platform to BookFunnel (Gumroad, Payhip, PayPal, Shopify, Thrivecart or WooCommerce)
Copy your ScribeCount key from BookFunnel
Paste it into your ScribeCount settings
You're ready to go! Learn more in our author knowledge base.
Direct sales are growing like crazy
Selling direct has exploded among BookFunnel authors. Every week, authors are setting up their own stores and selling ebooks and audiobooks. More authors than ever before are trying out direct sales, so this new connection with Scribecount couldn't come at a better time.
If you've been thinking about selling direct, jump in! The water's fine.
Until next time, authors!
Don't miss a post