September 7, 2022
Hello, BFFs!
We're back with Round #2 of Christmas in September, where we're releasing a slew of new features back-to-back. Yesterday, we announced easy ebook samples and, as of this blog post, over 800 samples have been built on BookFunnel! I think that's pretty impressive considering it's been less than 24 hours since we turned it on. Go, authors, go!
Today's new feature is just as simple to use as our ebook samples, even easier, actually, and it's been on the author wish list since—checks watch—we opened our doors in 2015. It was right behind direct sales delivery and audiobooks. Check and check.
BookFunnel has had watermarking technology since we launched signup pages back in 2016. It's a bit of a misnomer because a watermark is something you can see on the page. Our marks have always been hidden so that they couldn't be easily removed.
Every delivery on BookFunnel that doesn't come from a simple download page has the EPUB and MOBI watermarked with a hidden mark that we store with the reader's email address. This is so that, if your book ends up being shared somewhere it shouldn't, we can tell you where it came from.
But, we know from many emails over the years that some of you want something visual… that's not too abysmal. Something unobtrusive. A tasteful reminder not to share the file with others.
So, today we're…
Announcing Visible Watermarks in Ebooks
That's right, authors. You can now include a visible watermark, with the reader's email address, in your ebooks. And, best of all, you decide where your watermarks go. Want a mark only on the title page? Check. Want a mark on the title and copyright page? Check. Want to watermark every single chapter in your ARC? Check check. We're gonna run out of checks…
You can personalize the watermark a bit (up to 150 characters), and BookFunnel will insert your text + the reader's email address everywhere you've selected in the file.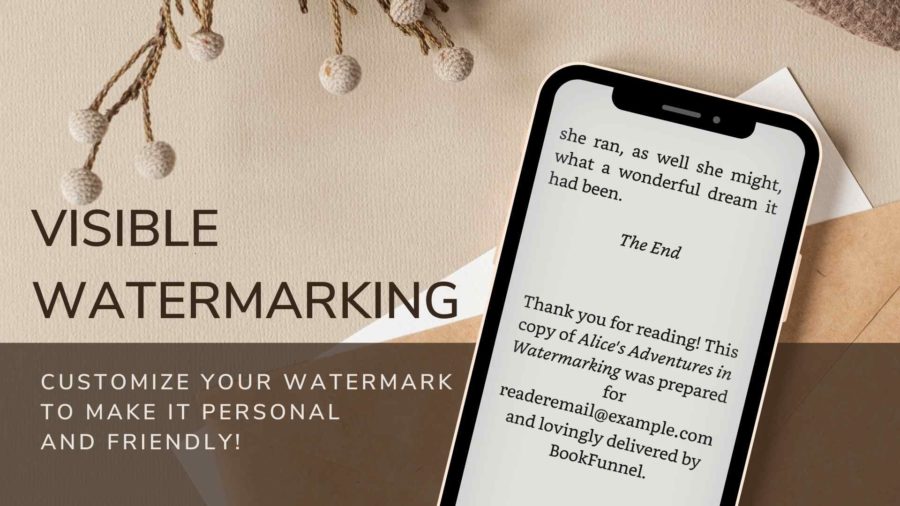 Anywhere we deliver a book where we know the reader's email address beforehand, we'll add the visible watermarks for you. Which is basically everywhere on BookFunnel that's not a simple download page: signup pages, Certified Mail, Gift a Book, sales delivery. It's all there.
And, PDF Stamping! For… PDFs
As an added bonus, BookFunnel can now (at your discretion) stamp the reader's email address on PDFs! When we know the reader's email address in advance (again, no simple download pages), BookFunnel will add the recipient's email address to the bottom corner of every page of your PDF. We've never had PDF watermarks before, so this is brand new!
Which reminds me of another thing we never talked about… Did you know that BookFunnel will deliver a PDF only file? If you don't have an EPUB or MOBI for your book, or those formats aren't ideal for reasons, BookFunnel can just deliver a PDF all by itself!
It's great for worksheets, workbooks, printables, coloring books, recipes, graphic novels, you name it. Our authors send all kinds of bonus goodies and reader delights in PDF. And, now, you can mark those PDFs with the reader's email address. If you like.
You're In Control
Like all things BookFunnel, we strive to always give our authors control of their words. We've had our hidden watermarks for years because authors asked for a way to track back the course of a pirated ebook file, and we aim to please. But, sometimes you want to be direct and just spell out exactly what you need… and now you can! If you want to. Learn how to watermark your ebook files.
Visible watermarks and PDF stamping are available on Mid-List author plan and above.
Wrap Up
We have one more feature to share with you this week, so we'll be back Friday. And again next week. And the week after that. We're probably done by then? Maybe?
If you aren't already following the blog, you should do that now! You don't want to miss the impending awesomeness.
Don't miss a post!