June 16, 2022
Hello, BFFs!
Welcome back to our series on BookFunnel group promos. If you didn't read the first post, we started with a quick overview of what group promos are and why you should be using them. In this post, we're going to focus on joining group promos as an author on BookFunnel.
Ready? Let's go!
You need a reader magnet
The first thing you're going to need is a reader magnet. Which is just a fancy term for a free story or sample of your writing to entice readers on to your mailing list. Your reader magnet should represent your writing style and introduce the kind of books you write. If you're looking for reader magnet ideas, check out our handy dandy blog post about what makes a great reader magnet.
As we mentioned in our first article, there are two kinds of promos on BookFunnel: newsletter builders and sales promos. Newsletter promos are for building your list by offering up a free copy of your reader magnet, so you'll have to have one uploaded to BookFunnel in order to join this type of promo.
Sales promos are a whole different thing and don't require a free reader magnet. Sales promos send readers to buy your book in book stores, so if you already have a mailing list (and aren't trying to increase it), you can jump right in and join a sales promo today!
If you don't have a mailing list yet, you should start with a newsletter builder. It will get your book in front of readers and immediately provide you with a small mailing list that you can begin warming up. Once you have a mailing list, you'll find more promo opportunities because you'll be able to contribute to the promo with everyone else.
How do I get started with group promos?
The first step is to sign up for promo notifications on the BookFunnel dashboard! This is the quickest way to find new promos that might be right for you. You tell BookFunnel which genres you write in, and we'll send you a hot, fresh email every morning when new promos are posted in those genres.
Once you've set your genres, it's off to the Promotions board! The promo board is where all actively recruiting promos are listed. Taking a peek, there are over 800 promos recruiting right now! Which can be a little overwhelming. By setting your genres first, BookFunnel will close the promo genres you aren't following so that you can focus on the posts that might be perfect for you.
Which promos are right for me?
Browse around your genre. Read the promo descriptions and see what sounds good. When you find one with potential, click on it to learn more!
When reading through a promo's description and requirements, ask yourself:
Is my book a good fit in the genre?
Does my cover match the other books already in the promo?
Do I meet any extra requirements the organizer has laid out?
Every promo is different. Some organizers are happy to work with newer authors or authors with a smaller list, while other organizers are looking for bigger authors with a larger audience. No matter where you land on that spectrum, you should be able to find some promos that fit.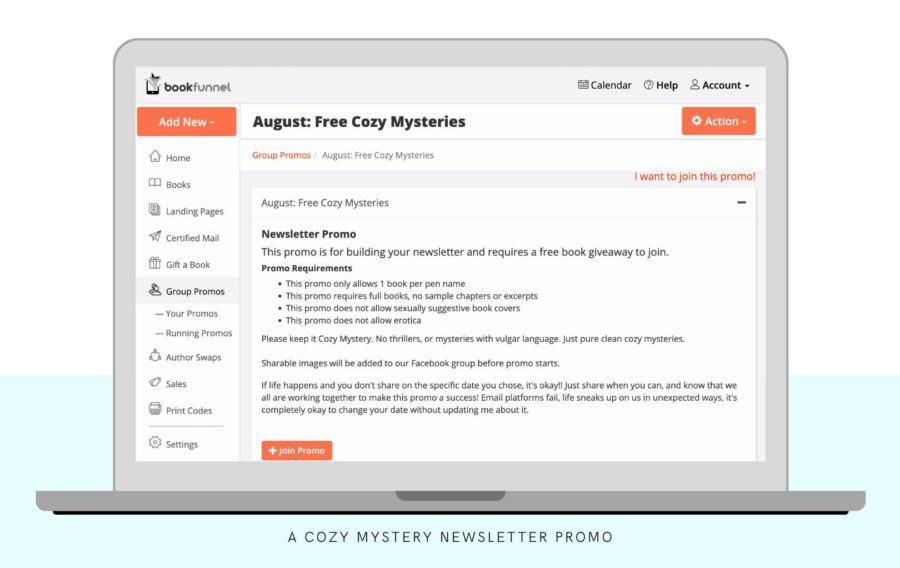 A promo organizer is an author just like you, and they set the rules and requirements for their promo. You'll want to pay close attention to the details. Most organizers are clear and up front about the kinds of books and authors they are hoping to find.
Book Requirements
Book requirements may include specific content, pricing, or availability. Here are a few examples of book requirements copied off of the promo board this week (please note, each requirement listed below was copied from a different promo. No promo has this many requirements for a single book!):
Complete stories only, no samples or excerpts
Your book must be in Kindle Unlimited
No man-chest covers
Your book must include a HEA (Happily Ever After, common in some Romance genres)
Your book must be on sale for 99 cents for the entire promotion
New releases only, your book must have been published in the last two months
If your book seems to be a perfect fit, check the dates and sharing requirements to see if you should sign up.
How do I share once I join?
Every author participant is asked to send the promo link to their own mailing list (and sometimes social media followers). This is called "sharing" and is how every author contributes to the promo's success. Most organizers are clear about their sharing requirements and detail exactly what is expected of the authors in their promo.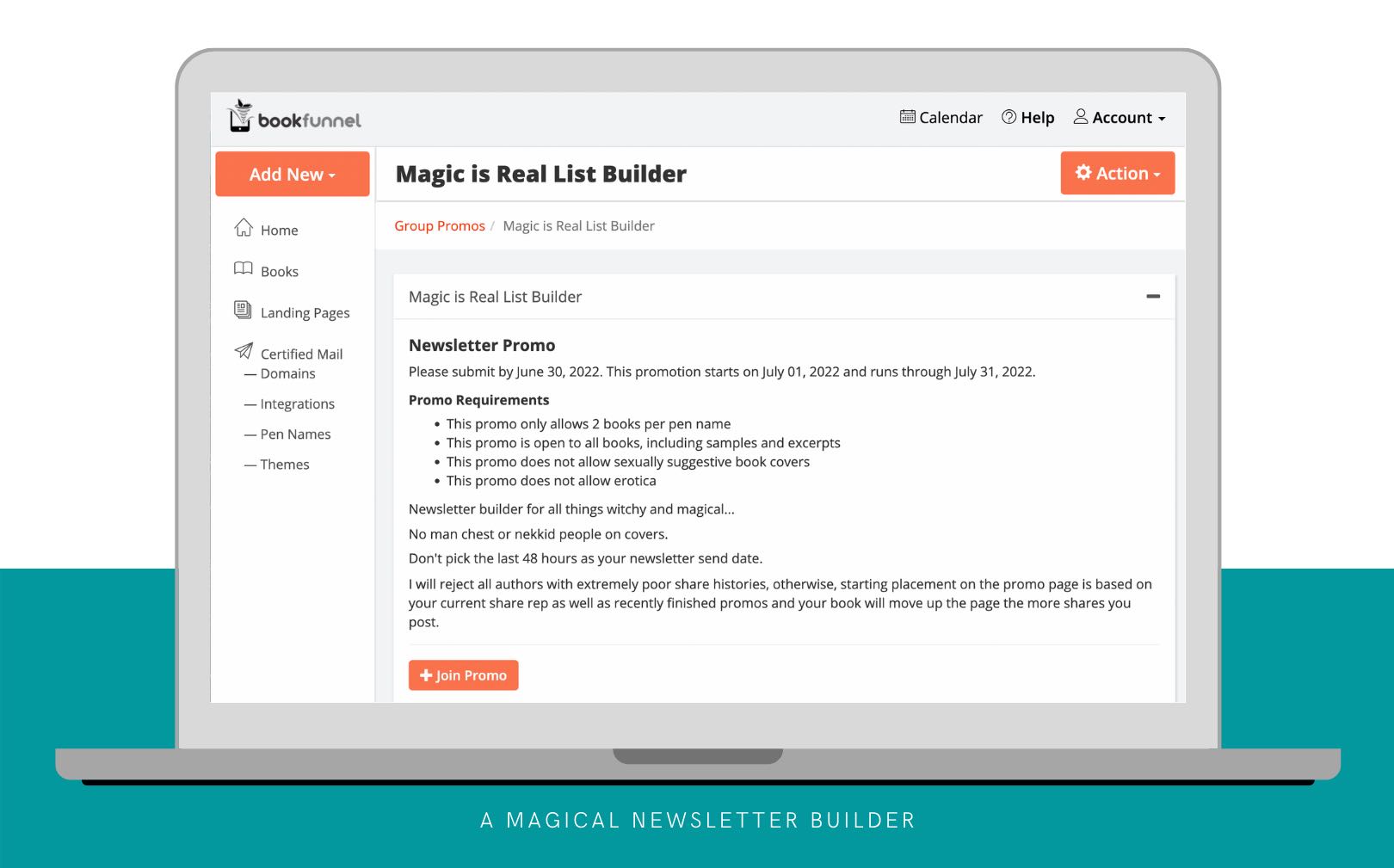 Sharing requirements vary by organizer and might include (again, these are copied from different promos):
Please share with your mailing list in the first week of the promo
You must have 10 "shares" (also known as "clicks on your tracking link") within the first X days of the promo
If you don't have a mailing list, please share on social media early and often
Participants need to share by X or risk being removed from the promo
Make sure you understand what you are agreeing to before you join a promo. If a promo requires you to share in the first week, but you can't email your list until the last week, don't join that promo. Find one with dates that align with your mailing list to join.
We'll talk about exactly how to share a promo with your list in a future post, so stay tuned.
Be strategic with promos
If your mailing list is new, and you're still figuring things out, join promos s-l-o-w-l-y.
When you first browse the promo board, you might find one or two promos that suit your book, or you might find fifty! While there isn't a limit on the numbers of promos you can join, resist the urge to join every promo you can find. Why? Well…
Every promo you join is a promise to send it to your mailing list subscribers. If you join six concurrent promos, you are agreeing to send all six out in your newsletter at the same time. There are three potential problems with that:
Your mailing list should be about you and your books first. You need time (and email space) to connect with your subscribers. Unless the entire purpose of your mailing list is to recommend free or discounted books, you could overwhelm or alienate the readers who joined your list because they loved your books.
The more links you share in your newsletter, the fewer clicks each link will receive. If you share one or two promos in your author newsletter, your subscribers will probably click both of them and check them out. If you send four or six (or more!) promo links in your newsletter, a few of your subscribers will click all of them, but most won't. And they might even close the email without clicking anything because having that many options can feel like work (does anyone else feel this way? Is it just me!?). This isn't necessarily a problem, but promos record the number of unique clicks your promo link (called your "tracking link") receives. When a promo closes, that record becomes part of your promo history and future organizers can see it when you join their promos. Joining lots of concurrent promos now may limit the promos you can join in the future.
You need time to warm up new subscribers. With each newsletter builder you join, you will add subscribers. Warm them up by introducing yourself and your books. You're goal is to build a mailing list full of readers that love you and your books, and that takes time and consistent nurturing.
Make sure that your first few promos are a really good fit. It's okay to start slowly and build up over time.
Remember, each promo you join will add new subscribers to your mailing list. Then, it's your job to turn those subscribers into loyal readers (and eventually superfans!). You need to welcome them, talk to them, and tell them about your books. That's a future post, so stick around.
More posts in this series are coming soon…
If you have a burning question about promos, reach out! We're happy to help.
Part 1: Finding the Perfect Group Promo
Part 4: Coming soon!
Never miss a post!
Follow the BookFunnel Blog and we'll notify you when we have a new post.