June 29, 2022
Hello, BFFs!
Amazon is at it again. But, this time, it's a good thing! The sun is setting on the venerable MOBI format of ebooks, which has long been Amazon's proprietary format for sideloading. If you've been in the indie publishing game for a while you know that Amazon abandoned MOBIs for KDP uploads last year, and now they're putting the (semi) final nail in the coffin.
For those who missed it, here is Amazon's announcement: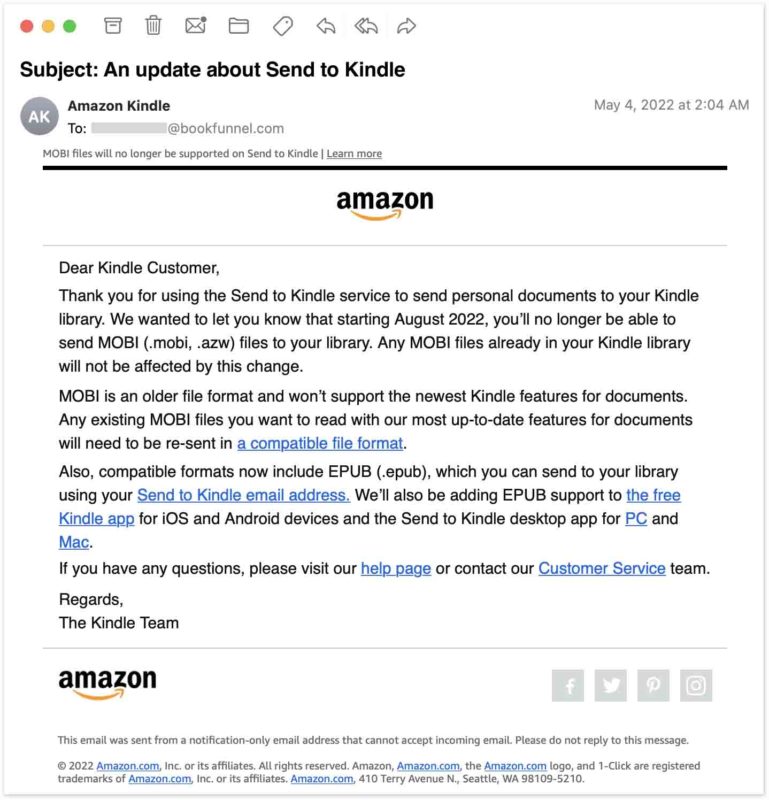 So, Amazon is all-in on EPUBs. Which, again, is great news! EPUB is a standard, it's documented, and it's easy to work with. Much like the recent death of Internet Explorer, no one will weep for the loss of MOBI. Though, like Internet Explorer, we'll never fully be rid of it.
What is changing?
Starting some time in August 2022 (nope, now it's late 2022), Amazon will stop accepting MOBI files through their Send to Kindle service, which is how most readers get books to their Kindle apps and devices. Send to Kindle now accepts EPUB files, (YAY!), and that will be the only acceptable ebook format in the future.
Send to Kindle is still accepting MOBI files for now, but we've already begun migrating readers to EPUBs with gentle nudges and friendly coaxing. For now, a reader can email either format, and they will both work.
Readers Don't Need to Panic
Amazon sent that announcement email to every person that has used Send to Kindle recently.
Some readers misunderstood the email and think that all of the MOBIs they sent to Kindle are going to disappear. A few have asked us if we can email them the EPUBs of all of their old books so that they don't get deleted! Yikes!
Any MOBI files that were sent to Kindle will remain on your Kindle account. Amazon isn't touching anything that has already been converted and delivered to your Kindle account. They are only changing the formats they will accept in the future.
So, Kindles read EPUBs now?
No. No, they do not.
Until further notice, Kindles and Kindle apps can't read EPUB files directly.
Amazon is accepting EPUBs through their Send to Kindle service, which is, above all else, a converter of ebooks. When you send an EPUB or MOBI through Send to Kindle, the file is converted to another format and then sent to the reader's Kindle device or app.
It's this conversion where things can get a little tricky. Stay tuned for tomorrow's post where we'll show you exactly what can happen when sending to Kindle!
Don't miss a post!