July 5, 2022
Hello, BFFs!
We get this question a lot here at BookFunnel. Why DO some books look ugly on Kindle? The truth is, dearest author, the answer depends entirely on which Kindle we're talking about and where you got the book.
Books that readers buy from the Kindle store do not run afoul of this uglifying affliction. Amazon gives the good stuff to paying customers.
What we're talking about are sideloaded books, those that are sent through Amazon's Send to Kindle. Since we're BookFunnel, and sideloading ebooks into the Kindle app is greater than half of our business, this issue comes up a lot.
So, here's why:
Two formats, nothing alike in dignity
You may not know, but there are actually TWO ebook formats that Amazon delivers to its Kindles (EPUB is not one of them). For simplicity and the purposes of this explanation, let's call them the "old" format and the "new" format. Clever, right?
The old format is extremely simple and doesn't support many styling options like embedded fonts, high-res images, image transparency, dropcaps, or a whole slew of other things we're used to seeing in modern, pretty ebooks. This old format, the original "mobi" format, was made for another time when a stylus was amazing! and reading an electronic book or touching a computer screen was some kind of Star-Trekian fever dream (the correct term is Trekky, but only the coolest authors would catch that reference).
The new format is more modern and has everything you need. We say "new" here, but this newer format has been around for a long, long time (since before BookFunnel, which launched in 2015). This "new" format includes the pretty styling you can achieve with any sufficiently modern ebook formatting software. All Kindles and Kindle apps, except one, use the new format when a book is sideloaded to Kindle. Sideloaded ebooks look beautiful on all (but one) platform, hooray!
But, that one. The one that still uses the old format? It's a big one: the Kindle for iOS app.
Kindle for iOS App Formatting Issues
Everyone reading in the Kindle app on an iPhone or iPad is seeing that prehistoric format.
And, here in the US, that's the majority of readers. So, when your EPUB passes through Send to Kindle and gets converted into their old, crusty classic format, you not only lose some of your pretty, pretty formatting, but there's a chance the book looks downright ugly.
Here are some examples: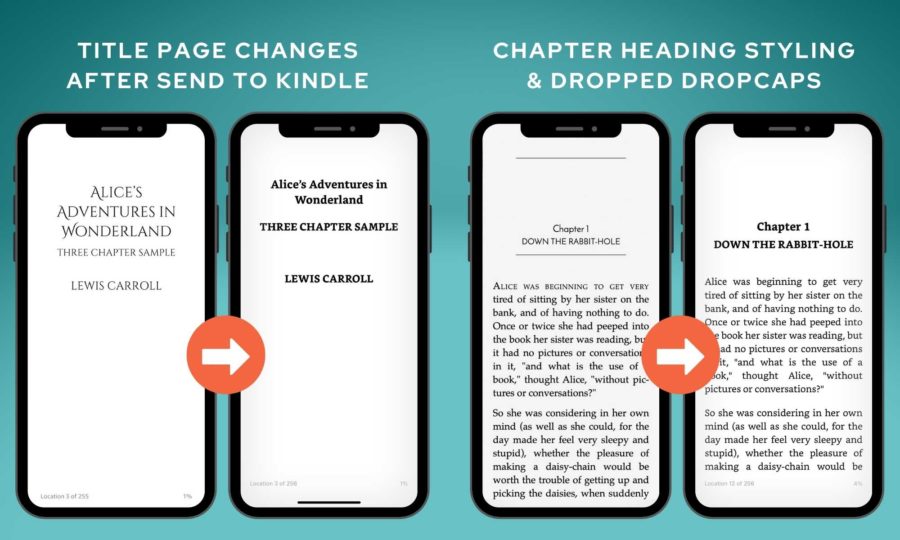 Didn't BookFunnel fix this?
Well, no, there's no fixing this (unless you're Amazon).
We fixed the other major problem, which is Send to Kindle rejecting your files outright or seriously breaking the formatting. We accomplished this by creating a Kindle EPUB format specially for Send to Kindle's converter. When you let BookFunnel create a Kindle EPUB for you (or upload your Vellum Kindle EPUB!) we'll send a file to Amazon that will convert cleanly.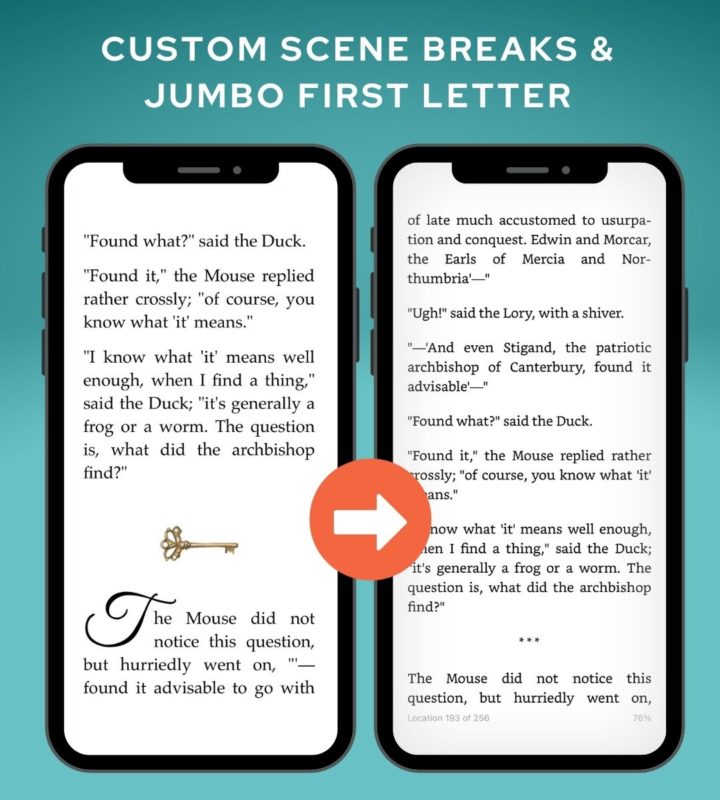 But, even with our new Kindle EPUBs… you're still going to lose formatting and pretty bits in the Kindle for iOS app. Barring a major update to the iOS Kindle app (oh, pretty, pretty please!), there's no way around that. Readers using the Kindle app on iPhones and iPads are going to get a degraded simplified reading experience.
Will this all be fixed when Amazon ditches MOBI?
While Amazon Send to Kindle now accepts EPUBs (and will soon stop accepting MOBIs), they have not changed the format that Send to Kindle outputs.
Remember: Send to Kindle is a converter. Amazon Send to Kindle processes your ebook and converts it to a Kindle file. Then, Amazon ships that file to your Kindles and Kindle apps. This post is about how that file looks like in the Kindle for iOS app. If (hopefully, when) Amazon updates their Send to Kindle converter and the iOS Kindle app, this issue will go away!
Good news for illustrated books
So, that's all a bit of a bummer. But, here's a little ray of sunshine in that gloomy Send-to-Kindle-converter-raincloud… illustrated ebooks will now open in the iOS Kindle App! Which is not something we had before.
Before, sideloading an illustrated MOBI would often result in an empty book in Kindle on iPhones and iPads. No pages or content, just blank.
Now that Send to Kindle will accept EPUBs, illustrated book authors can (and should soon!) ditch MOBIs completely! Those same ebooks will open and be functional when you send the EPUB to Kindle, which is fantastic news for illustrated book authors. Three cheers for functional ebooks!
So, what should I do?
✅ Upload your Vellum Kindle EPUB
If you're using Vellum, give BookFunnel your Kindle EPUB along with the Generic EPUB. Vellum will quickly and easily generate both formats for you, and you can just drag-and-drop both of them onto your BookFunnel dashboard. We'll take care of the rest for readers.
✅ Preview your book on an iPhone/iPad
If you're not using Vellum, check your books. Email your EPUB through Send to Kindle and see how it looks on an iPhone or iPad (not the Kindle Previewer, it won't show you what you're looking for). Unless your book uses really simple formatting, you'll probably lose some pretty bits after conversion.
Especially if you've used Vellum or Atticus and have pretty formatting (like embedded heading fonts and custom scene breaks). Some of that will be gone. There's no fixing it until the iOS Kindle app supports the new format. What you're checking for is does the book look good enough? If it does, hooray! If not…
✅ Enable the Kindle EPUB on your BookFunnel dashboard
If your book looks rough after going through Send to Kindle, try enabling the Kindle EPUB on your BookFunnel dashboard and send that file to your Kindle email. It will most likely get a better answer when sent to Kindle for readers on iPhones and iPads.
Follow those steps, and you'll get a functional (if not always pixel perfect) ebook in the Kindle app every time.
Until next time, authors!
Don't miss a post!