August 18, 2021
Today we're announcing a whopper of a feature. It's been requested by a lot of you over the last few months, and here at BookFunnel our features are driven by our authors!
Group promotions on BookFunnel are a great way for authors to grow their mailing list. Especially authors who are just starting out and have no list at all. Joining up with other authors in your genre and cross-promoting can help you reach new readers for the very low cost of a basic BookFunnel account.
But, group promos aren't for everyone. Or, they aren't for all authors all the time. You still want to put your book in front of new readers, and you're willing to share a book recommendation or two with your mailing list, but… you want to keep it small and focused. Personal. Enter… Author Swaps!
BookFunnel Author Swaps
With group promos, you're sharing a lot of books and a lot of authors. An author swap is just you and one other author swapping links in each other's newsletters. You send out their book, they send out yours. Super easy, super simple.
Swapping with the right author can bring exactly the right attention to your books, which would be readers that click links in emails. If you narrow your focus and choose an author in your genre with similar books, that would mean readers that click links in emails and love books exactly like yours, which is fantastic! Woohoo's all around!
The Author Swaps board is available to all BookFunnel account holders, including authors on the First-Time Author plan! Find authors in your genre to swap sales links or signup links with (or simple download links for First-Time Authors) and get your book in front of new readers.
How Do Author Swaps Work?
When you find someone you want to swap with on a date you like, request to swap and submit your book. The swap organizer will take a look at your request and either approve or reject it (hopefully the former!). Once you're accepted, BookFunnel will generate tracking links for each of you and add the swap to your BookFunnel calendar.
On the day you agreed to swap, you'll receive a calendar reminder and your tracking link to share with readers. The other author gets the same on their share date. Everyone shares, everyone wins. It's as easy as that.
Find New Author Swaps
We've built clever features into the Author Swaps board to make finding and joining swaps easy, including:
Author-specific filters like ebook or audiobooks, sales or signups, KU or wide (or both!)
Date filters so that you can plan swaps far into the future
Board pruning options to hide swaps that aren't a good fit or snooze great swap opportunities for later
Easy filter presets to change your search parameters with just a click
Email notifications that exactly match your filters and can be sent to your assistant or preferred inbox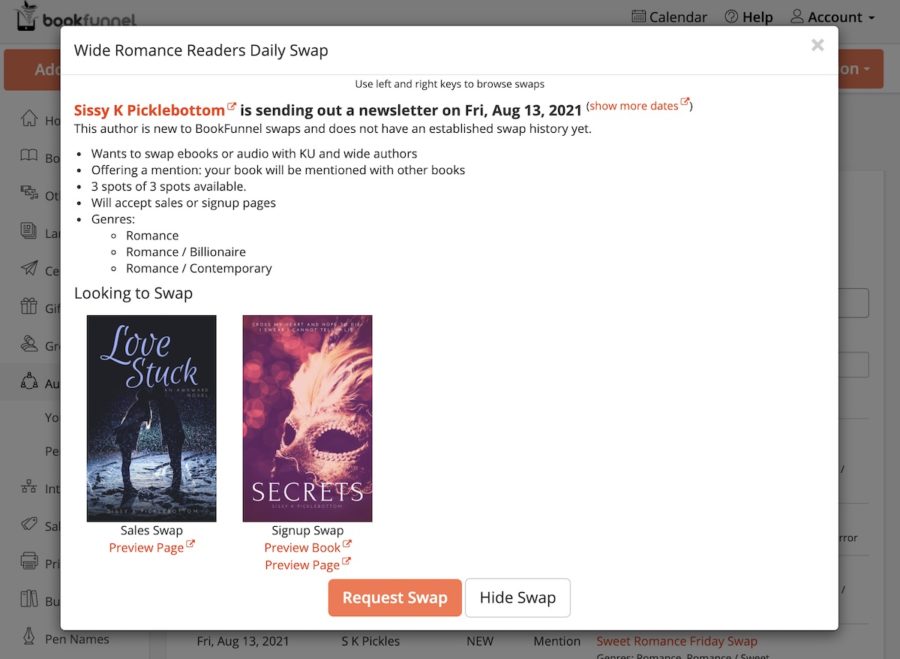 And we didn't stop with building a swap board that you can slice and dice however you like. Nope, we've also made is easy to post and manage your swaps by:
Supporting full transparency across the board–swap history and share averages are available to both organizers and applicants
Integrating the BookFunnel cloud reader so that you can easily page through books before agreeing to share their signup links in your newsletter
Generating tracking links and reminders automatically so you don't miss your share date
Adding scheduled swaps to your handy-dandy BookFunnel calendar
Keeping a tidy record of all completed swaps so that you don't need a spreadsheet of who did, and did not, share as agreed

So… that's BookFunnel Author Swaps, y'all! Check out the swap board and see what's cookin'. It might be a wee bit sparse today, but just you wait! It's gonna fill up fast. If you're feeling saucy, be bold and post the first swap in your genre! It could net you some new author friends and fantastic new readers.
Not ready to move on swaps just yet? Set up some filters and email reminders, and we'll let you know when new swaps get posted that match what you're looking for. Go forth and get your swap on!
Learn more about author swaps in our knowledge base.
Don't miss a post!
Follow the BookFunnel Blog and we'll notify you when we have a new post.