September 13, 2022
Hello, BFFs!
Welcome back to a new week of Christmas in September, where we're announcing all kinds of fun new features for you and your readers! Last week, we announced custom ebook samples, visible watermarking in ebooks, and bulk delivery for Kickstarter campaigns and the like.
Today's feature is not new exactly, we've had it for years, but it is one that you may not know about. Which, isn't surprising, given our passions lie in building new stuff, rather than talking about what we've already built. In the same way that you probably prefer writing a book, and would punt on that whole marketing thing if it were possible to do so.
Back to the point! Which is, we have an app. The BookFunnel app. And, it's amazing.
Let us tell you about it.
The Amazing BookFunnel App
Built for authors to make it easier for all readers to get your books.
If you haven't seen or used the BookFunnel app yet, you should try it out. It has everything you'd expect (and more!) from a modern app: BookFunnel delivery, multiplatform, library management, and a built-in ereader and audio player.
Why an app? Well, we realized years ago that our big dreams of big things for indie authors were unattainable as a web-only platform. But, we're still BookFunnel. We didn't want to lose our roots, so our app had to deliver the best experience all around, and a whole lot more.
Starting with…
Ebook Delivery
The BookFunnel app for iOS and Android is the fastest, most-reliable way to get a book to Kindle, hands down. We made sure that our app was the best possible delivery experience for Kindle readers.
Some of you might say "just use Send to Kindle email!" and, yes, a lot of readers (and authors!) use it with great success. But, the initial set up for Send to Kindle by email proves to be extremely challenging, nay impossible, for a segment of the reader population to get through. We have nearly 300,000 reader help requests over the years that make that clear. Send to Kindle email can be daunting for those readers, especially the self-professed technophobes, and some won't even attempt it.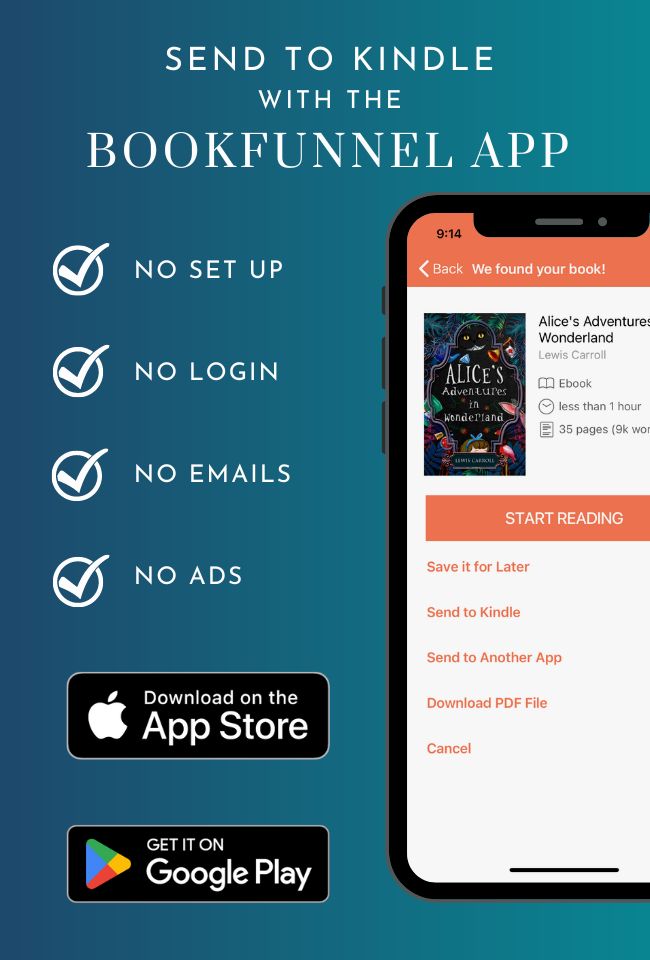 You know what isn't daunting?
Install the BookFunnel app
Tap the code
Send to Kindle
With the BookFunnel app, readers can just tap a code on their landing page, and they're sending to Kindle seconds later. No extra steps, no forwarding emails, no rejection messages because they didn't put the right thing in the right place. The book just whisks away and is delivered to their Kindle library.
We didn't just do that for Kindle, though. We made sure the BookFunnel app offered the same easy experience for all the top-tier reader apps we support: NOOK, Kobo, Apple Books, and Play Books as well.
There is no easier way to deliver a book to a reader's app or device than with the BookFunnel app. But, there is one way that's even easier to start reading.
Our Built-in Ebook Reader
It may surprise you to learn, dear author, that we get a lot of readers that have never read an ebook before in their life! Even here in 2022. They show up in our queue totally flummoxed about all this stuff because they don't have a Kindle app or Kobo app on their smartphone. And, they just want to read this great new book they got.
So, we built our own reader. And, I mean, we built it. From the ground up. It's a foundational feature of BookFunnel, and we wanted to make it great. And, after investing years of time and resources, we can say: achievement unlocked. We're all voracious readers here at BookFunnel, and pretty opinionated about what makes a great reading experience. We think that comes through in our reader.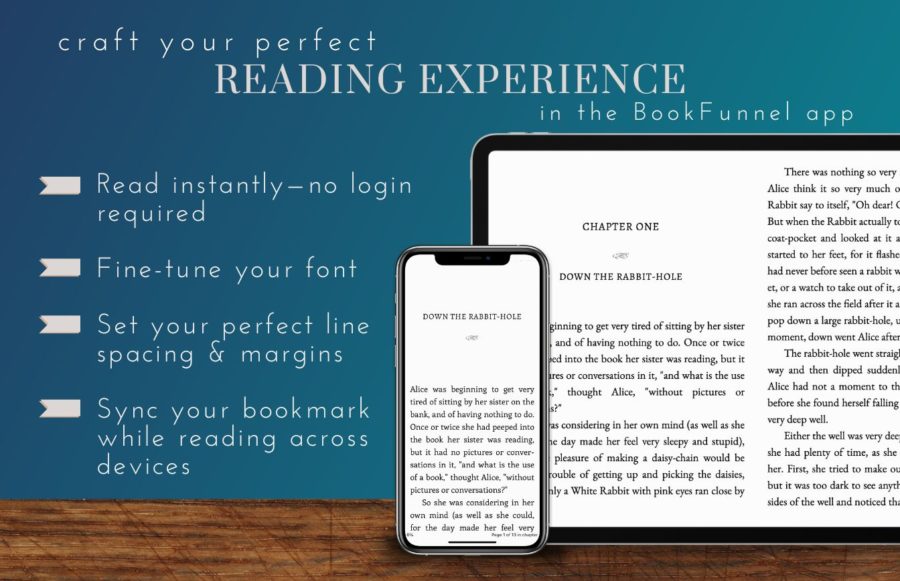 You can adjust everything in the BookFunnel reader: fonts, sizes, page margins, line spacing, background color, page turning, you name it. Every reader has their perfect setting, and they can find it with the BookFunnel app. You can change the font size incrementally so that it is exactly right, none of this "choose Default, Slightly-larger, or Visible from space" sizing nonsense. Choose your perfect font. And, we supported Open Dyslexic right out of the box for those readers who need it.
Try it out by downloading Alice's Adventures in Wonderland in the BookFunnel app! Install the app from the App Store or Google Play Store and then submit this code in the BookFunnel app:
ALICE
Oh! And that cloud reader we talked about last week? The cloud reader we built that makes it possible for readers to read your ebook sample right in their browser with just one click? Yeah… that's powered by the same reader engine as the mobile BookFunnel app. So, folks can read on their computer, and then their phone, then their iPad and back again, and BookFunnel will store and sync their place across devices. It's truly multiplatform. Pretty sweet, right?
Most of us here at BookFunnel read in our app every single night. It's become our favorite reading app, and now no other will do. But, we didn't stop at the best e-reading experience, we also have…
Our Audiobook Player
You know what readers don't like? Unmet expectations. This is as true for an app experience as it is when reading your stories. Another truth? Audiolovers don't want to listen to their audiobooks in a podcasting app. They're two different things, podcasts and audiobooks!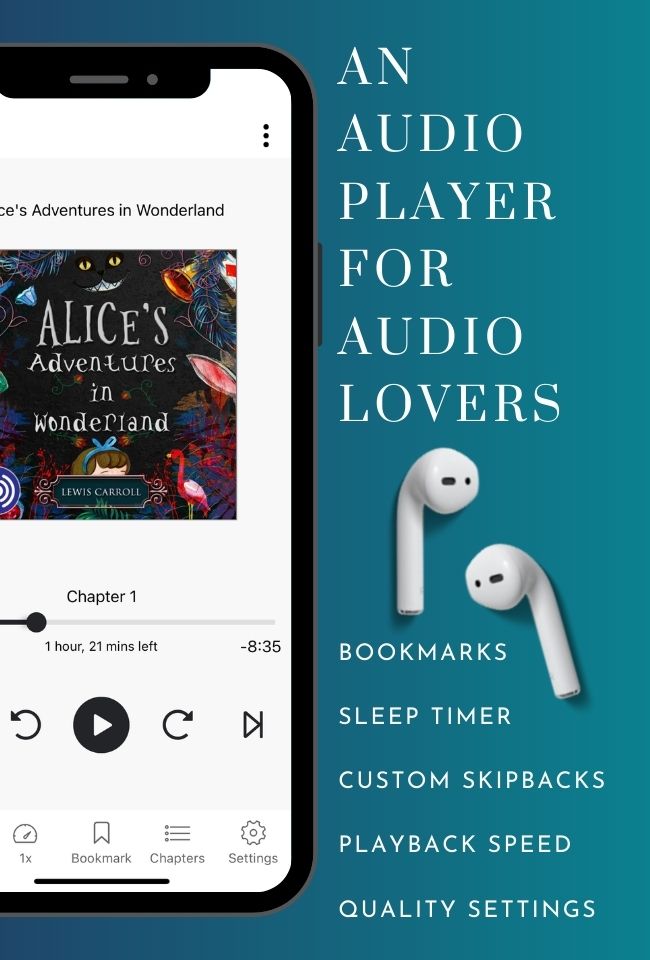 Audiobook listeners expect an audiobook app to look and behave like other audiobook apps they enjoy. So that's what we gave them! The BookFunnel app was designed as a first-class audiobook listening experience.
It has all the goodies audiobook lovers expect: bookmarks, sleep timers, playback speed adjustment, skip buttons, skip time adjustment, chapter lists, and quality settings. We have audio-first readers on the BookFunnel team, and we made sure our player met all of their expectations (an audio-first reader enjoys both audiobooks and ebooks, but, when given the choice, prefers audio).
Building this into our app (and building the app at all) is what has allowed BookFunnel to grow into audiobooks. And, boy, have you guys grown into audiobooks. Which isn't surprising since audiobooks are exploding right now, and indies are at the forefront of that wave.
BookFunnel is here to meet you with features that put keep you in control of your content.
Built for Authors, Enjoyed by Readers
So, whether you've used our app before, or you're just hearing about it for the first time, that's the BookFunnel app. It may be primarily (entirely) used by readers, but we built the BookFunnel app for our authors. You have big dreams too, and we want to help you realize them.
Because of our app, we're able to:
Deliver the fastest download experience for readers
Deliver ebooks right to readers without the extra steps
Deliver audiobooks direct to readers
Let readers manage all of their BookFunnel books in one place
Deliver direct sales of ebooks and audiobooks just like Amazon
So much more…
But, we're not done yet.
We have a big feature announcement to share with you this week that only BookFunnel could do. And, our app has made it possible. There's so much more that we're excited to tell you, we're practically giddy! But, it'll have to wait just a few more days.
See you soon!
Don't miss a post