September 14, 2022
Hello, BFFs!
We're back with another present to stack on the growing tower of Christmas in September goodies. This one is a bit small compared to last week's feature overload, but good great things come in small packages!
When you create a book on BookFunnel, you can build many different landing pages, as many as you want. In fact, we recommend you use a different landing page for each of your marketing efforts. The more you know about how readers found you, the easier it is to know where to spend more of your time and effort.
Use unique links to track activity when:
✅ Running Facebook ads
✅ Joining group promos
✅ Doing a giveaway on promo site
✅ Linking from your own website
✅ ✅ Enticing readers with a Call to Action in the back of your book
And, with custom themes and custom domains, you can make your pages all your own. We'll have more on how to use your BookFunnel landing pages effectively in another post, that's not actually what we're talking about today. But, it is relevant, I promise.
For over two years, simple download pages have had the option for readers to just tap a link and start reading. No installation, no logging in, no downloading, no nothing. Just tap and read right in your browser using BookFunnel's amazing cloud reader. We call these…
Read Now Links
A Read Now Link launches the reader directly into your book (or sample, more on that in a second). You can copy your Read Now Link and send it to readers in your newsletter, on your social media, anywhere you want them to be able to read a story with ease.
You can see an example of our Read Now Links on this simple download page for Alice's Adventures in Wonderland. Since it is a download page, you can (quickly) flip through the entire story right in your browser:
Until recently, you could only get a Read Now Link on a simple download page like that one. So, while it was cool that readers could jump in and start reading, you couldn't use it to gain signups or drive a sale.
That was before BookFunnel ebook samples, which we announced last week. Now, you can create a quick sample of your ebook and add it to ALL of your pages! Your simple download pages will continue to link to (and open) the entire book, and your ebook sample will appear on all of your email signup and sales pages. The end of your sample can take readers back to your signup page, your sales page, or anywhere else you want to send them. You're the author, you're in charge.
Samples & stories from anywhere
So, the ability to link readers directly to your book in the BookFunnel Cloud reader has existed on download pages for years, but we didn't document it or even show you how you might use it to delight your fans (again, talking=hard, building=fun). But, now that ebook samples are out in the world, we're promoting Read Now Links from mousy wallflower to the season's diamond!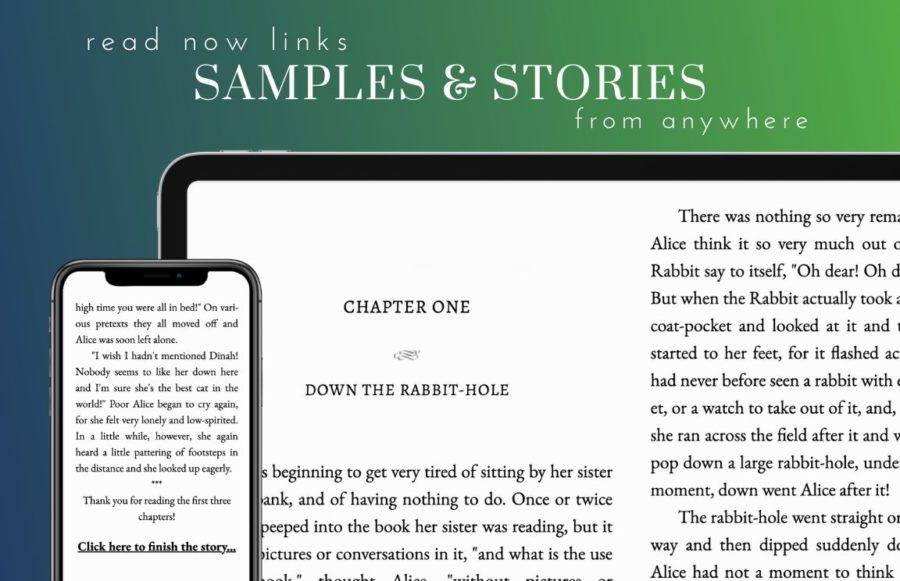 You can find your Read Now Links right on the BookFunnel dashboard. A quick copy-and-paste, and your readers can be immersed in your words with just a tap of their finger (or click of their mouse, which is less poetic but just as awesome).
Where might one use a Read Now Link?
✅ Link to a free short story right from your website
✅ Send an excerpt of your upcoming book in your newsletter
✅ Drop a deleted scene on your Facebook page
✅ Link to your ebook sample from your online store
✅ Send readers to a better sample before clicking through to Amazon
With Read Now Links there's no waiting and no steps. You copy the link from your dashboard, send it or post it, and readers can read instantly in our lovely cloud reader. The BookFunnel cloud reader is a first-class e-reader, and a lot more comfortable than scrolling through a story in an email or reading it on your blog.
Take a look at this email signup page for Alice's Adventures in Wonderland. Here's a Read Now Link to open the first chapter:
The call to action at the end of the sample will pop you to the signup page, just like it should.
You'll find Read Now Links on your dashboard in the details of your landing pages. A Read Now Link on a simple download page will open the whole book with just the tap (or click!) of a button. And, a Read Now Link on a sales or signup page opens the sample you've created.
It couldn't be easier for you OR your readers. Learn more about Read Now Links.
Just one more thing to share this week…
We have one more feature this week, authors, and it's a big one. One we've wanted for a very long time. It took a few years, and we had to get a few foundational features (like our app and cloud reader) into the world first, but now we're ready! The groundwork has been laid and we're finally ready to release this one into the world.
And, it's something only BookFunnel can deliver.
Don't miss a post!