September 16, 2022
Hello, BFFs!
Welcome back to Christmas in September, where we're releasing as many new features as we can before keeling over! We're rounding the corner here, almost in the home stretch, and we're loving it. We may never do this again, but we're having a blast.
We love building new features. It's our favorite thing. Ever! Fun (and relevant) fact: Certified Mail, our ARC (Advance Reader Copy) delivery feature, was the first feature we built based on author feedback, way back in 2016.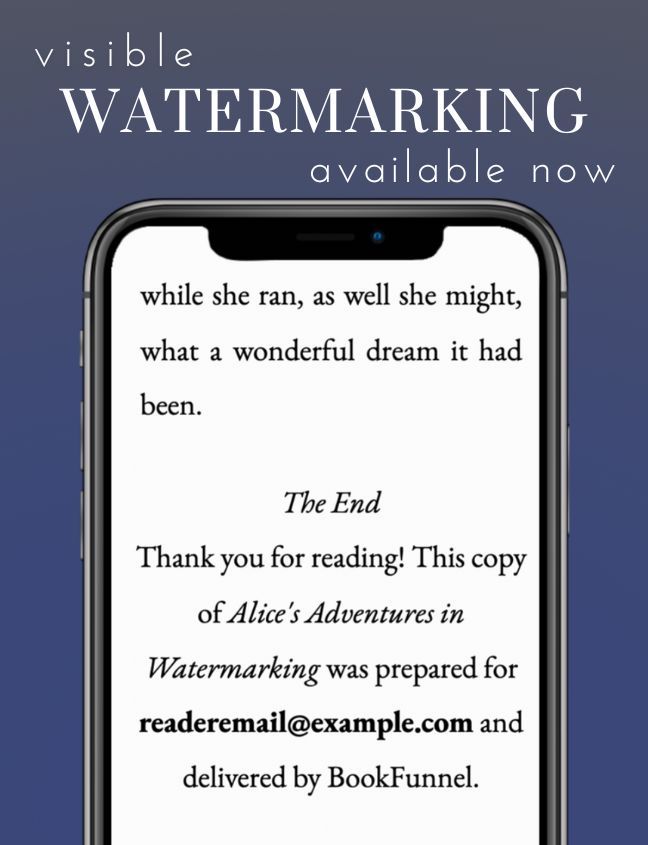 Authors asked for a way to send books to readers, track who was downloading, and have some kind of limit to protect their ARC links, and we delivered (heh). Certified Mail launched with landing page stats, download counts and limits, and watermarked EPUBs and MOBIs files (to deter file sharing).
And, just last week, we announced visible watermarks, in case the hidden one wasn't enough of a deterrent. Seeing your own email address right there at the bottom of every chapter (author's choice) will definitely discourage share-happy readers.
But, watermarks, no matter how visible, can only go so far. Wouldn't it be better if you could stop sharing all together? What if you could just… not give anyone your ebook files at all? Why not close the door BEFORE the cow is out of the barn?
Well, now you can.
Announcing Restricted Book Delivery
Deliver the ebook without the files! With BookFunnel restricted book delivery, you can now deliver your ebooks (PDFs included!) directly to readers through the amazing BookFunnel App and cloud reader, all without delivering files that can be shared.
Readers can enjoy your wonderful books without you worrying about where the EPUB, MOBI, or PDF might end up. This is especially awesome for ARCs. It's the worst feeling in the world for an author to find that a trusted ARC team member has shared their new book with the world. Especially before it's even been released!
Well, no more! Let BookFunnel be your ARC angel! (yeah, it's corny, are you new here?)
The Reader Experience
So, what does that mean for readers? It means they can enjoy your ebooks and audiobooks right on their smartphone, tablet, or computer. If you'd like to take a look, here's a restricted download page for Alice's Adventures in Wonderland:
We talked about it earlier this week, but we built our e-reader to delight the pickiest readers in the world: us! And, if we do say so ourselves, it makes reading a joy.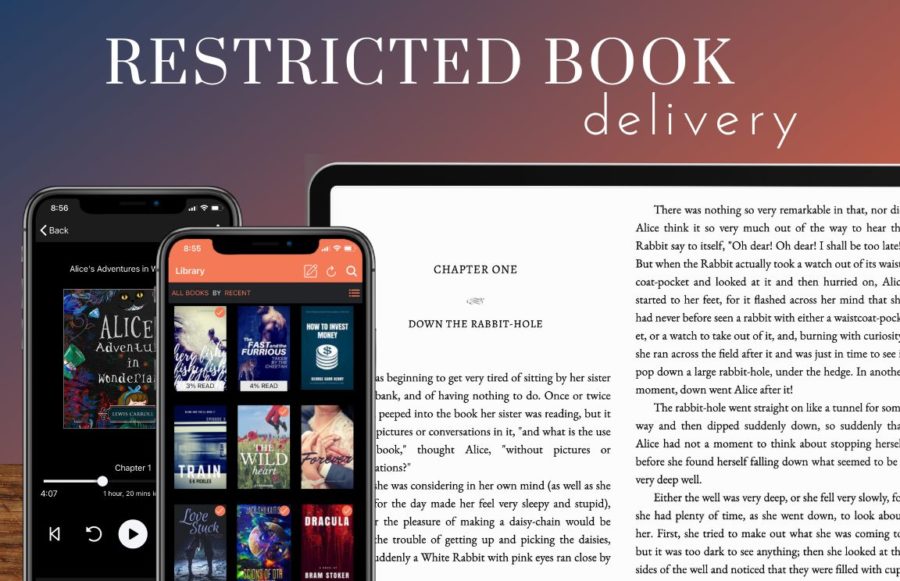 When books are restricted to BookFunnel, readers can:
Enjoy a first-class e-reading experience
Read on almost any device* using the BookFunnel cloud reader
Read offline in the BookFunnel app
With restricted book delivery, readers cannot read on any specialty e-reader, or in any other app. Which could upset some readers. But, it also means they won't see ugly formatting in the iOS Kindle app, so that's a bonus. Serendipity, baby!
Readers can open your book on nearly any device* in our cloud reader. And, with the BookFunnel app, readers enjoy: offline reading, Dark Mode, ebook and audio bookmarks, and everything you could want in a reading app! We had a whole blog post about it earlier this week, if you missed it.
The Author Experience
But, the best thing is, you get control over your book and how it is distributed. This is powerful, and not an option indies can choose anywhere other than BookFunnel. Your readers can still devour your new book without them also having access to the ebook file itself. That's peace of mind.
At BookFunnel, you're running the show. Whether you're sending an advance copy, selling direct, or just sharing a fun flash giveaway for your superfans (only), you set the terms. You can restrict a book at any time, and you can also remove that restriction… at any time. Restrict your ARC for the month leading up to you release, but let your reviewers know they can download the ebook files after release day. Presale a new book on your website before it is listed anywhere else so your biggest fans can read it early. Then, toggle the restriction off after it's published so those early buyers can download the book files (if they want to).
It's all up to you.
Restricted book delivery is available on the Mid-List plan and up, starting today. Learn more about sending restricted books.
Certified Mail Superpower
Technically, you can restrict any book for any reason—sales, bonus content, whatever. But, we really built this as more of an ARC feature, so we added one more bit to Certified Mail that you're gonna like.
When using Certified Mail + restricted book delivery, you get visibility! Once you send your campaign, you'll not only be able to see which readers have viewed the landing page, but you can now see which readers have started reading! Best of all, you can also see how much they've read! Each reviewer's reading progress is displayed right alongside their email address in the campaign details.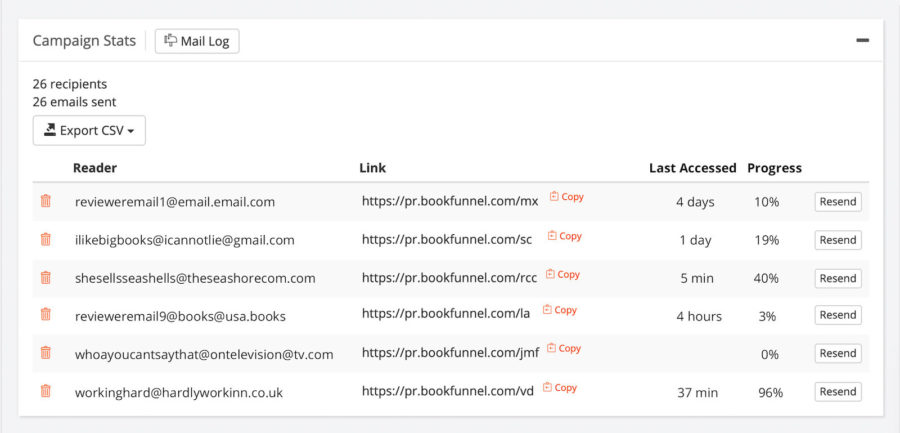 When you send a Certified Mail campaign, you can remove a reviewer from the campaign if necessary. Removing someone disables the link they received and cancels any remaining campaign emails. This is already built-in to Certified Mail and has been for a long time. On a restricted book, removing someone from your campaign also removes the book from their BookFunnel app and library. If you run a tight ARC ship, and that appeals to you, it's built into Certified Mail.
So, if (or when), you have a book to share with readers that you want to keep within your inner circle, if only for a short time, BookFunnel's got your back.
Only BookFunnel Delivers
We've waited so long to be able to give authors this kind of control. And, it's something that only BookFunnel can deliver (see what I did there?) because of everything we've built.
When we opened our doors in 2015, our motto was "Your books, your readers". Restricted book delivery, really all of the features we've announced so far, ensure that you remain in charge of your content. Your books. Your readers. We meant it then, and we mean it now. We love building helpful tools for authors, and we'll always put the control in your hands.
We hope you've been delighted by all of our announcements these last couple of weeks. Some of you have been with us since the beginning, when our only "feature" was a can-do attitude and a willingness to help your readers get a book. Mostly by email… and trial-and-error. We're bursting with pride that, not only are these features out in the world, but many of you have RUN with them. A great feature is one that fits in so naturally you can barely remember the time before it existed. That's always our goal.
So, thank you for diving in. Thank you for the shout-outs on social media and for sending in sweet and supportive emails… even if they are accompanied by more feature requests. We wouldn't want it any other way.
* See a full list of supported devices
Wrap Up
That's all for this week! We've got more to announce next week, though. And, I know, you're thinking, "How could they announce even more awesomeness??"
That's just how we roll here at BookFunnel.
Until next week!
Don't miss a post!
Follow the BookFunnel Blog and we'll notify you when we have a new post.